The sun and water in the summer are always great, and one of the best ways to relax poolside or on the beach is to lie on a comfy pool float. In order to bring more choices and fun to consumers, the well-known brand Kottoyi recently launched a new series of swimming pool floating beds, adding color and comfort to summer fun.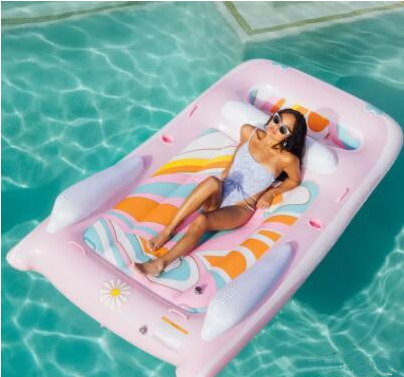 Kottoyi has long been known for its innovative and high-quality products, and the new range of swimming pool beds is no exception. This range of pool floats utilizes the latest technology and materials designed to provide optimum comfort and durability. Each floating bed is carefully designed to ensure that the user's leisure time in the water is more relaxed and enjoyable.
This new series of swimming pool floating beds is available in a variety of styles and colors to meet the needs and personalities of different consumers. Whether you prefer simple, sleek designs or bright, vibrant colors, there's a floating bed that's right for you. In addition, these floating beds are also waterproof and sun-resistant, and can be used in the sun for a long time without fading or damage.
In addition to appearance and comfort, Kottoyi's swimming pool floating beds also focus on safety. Each floating bed undergoes strict quality control and testing to ensure that it complies with relevant safety standards. Made of high-quality materials, they have good stability and load-bearing capacity, allowing users to enjoy water fun with confidence.
Kottoyi's swimming pool floats are not only suitable for home use, but also very suitable for resorts, water parks and swimming pools and other places. Whether in a private pool at home or in a public area at a resort, these floating beds bring comfort and fun.
In addition, Kottoyi also provides a series of accessories and additional functions, such as anti-slip mats, cup holders and sunshades, to further enhance user experience and convenience. Consumers can choose accessories that suit them according to their needs and preferences to create a perfect water leisure place.
Whether you're in your home pool or at the beach, Kottoyi's pool float will be your best companion for summer relaxation. Not only do they provide comfort and support, they also add color and style to your summer fun.
From now on, let's enjoy this summer together, lie on Kottoyi's swimming pool floating bed, relax and enjoy water fun!