"Pool inflatables" refers to a variety of inflatables used for entertainment and leisure activities in swimming pools. The following are some types of pool inflatables that are relatively common in actual use: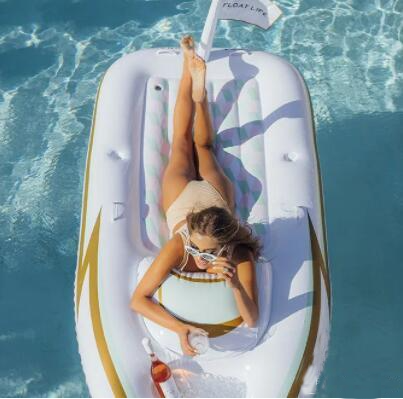 1. Floating Beds/Chairs: These are the most common pool inflatables and include floating beds, lounge chairs, lounge cushions, etc. in various shapes and sizes. They allow people to lie comfortably on the water and enjoy the sun and the pleasure of the water.
2. Animal shapes: There are various pool inflatables in animal shapes, such as swans, unicorns, sharks, etc. They are especially popular with children and provide them with a fun water play experience.
3. Ball games: These pool inflatables are designed in the form of basketball stands, volleyball nets, etc., encouraging people to play various games and competitions in the water, increasing interaction and entertainment.
4. Floating slides: These inflatables are usually larger and include designs with attached water slides to provide users with more interactive water experiences.
5. Swim Rings/Floats: Although simple, swim rings and floats are still common pool inflatables. They provide extra buoyancy and support for those who cannot swim or are learning to swim.
6. Beds and chairs with awnings: Some pool inflatables are equipped with awnings, which provide users with a comfortable space from the sun, which is especially useful in hot weather.
7. Water sports equipment: These inflatables can include water fitness equipment, such as water dumbbells, water exercise bikes, etc., providing water sports opportunities for people who like to exercise.
8. Water swings/hammocks: Some pool inflatables are designed in the form of swings or hammocks, allowing people to swing or lie in the water for a unique water experience.
These are just some of the common types of pool inflatables. It is important to consider personal preference, age, swimming ability, and safety considerations when selecting and using them. Whether you want to relax, play or work out, you can find pool inflatables to suit your needs.